One Sector You Should Watch Right Now
Part of investing for a "rich life" means finding companies with:
1)   Strong financial tailwinds…
2)   Growing demand…
3)   Sustainable dividends.
That's why now is a good time to take a fresh look at select defense companies.
Geopolitical tensions have been on the upswing…
Year-to-date, the Aerospace and Defense Industry sub-sector has generated more than twice the returns of the broad market…
And Washington is looking to increase spending on military and defense going forward as you can see here: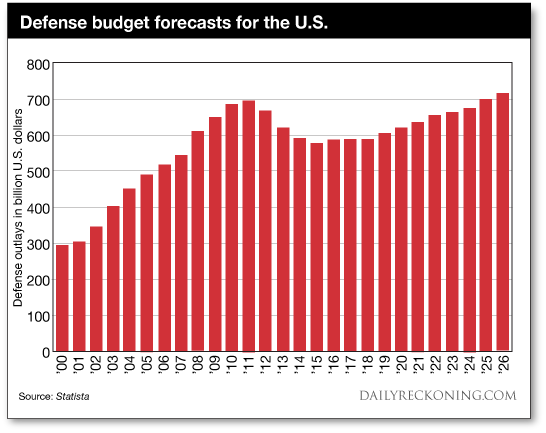 And foreign countries are following suit.
U.S. defense companies sit smack dab in the middle of it all.
In fact, domestic firms hold the largest share of the global defense market, accounting for 33% of the world's arms exports.
Last year those exports reached roughly $38 billion: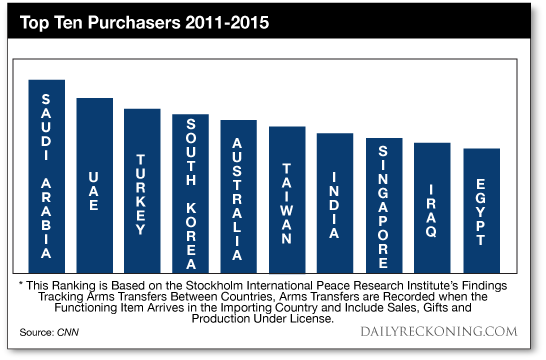 What are foreign countries buying and which companies stand to benefit the most?
Saudi Arabia, Japan, Kuwait, Qatar, Poland, Taiwan, and the UAE are stocking up on the Patriot Defense System, made by Raytheon (RTN) and Lockheed Martin (LMT).
Norway has upped its initial commitment of four F-35As from Lockheed by moving into the full procurement phase.
The Danish government wants to increase its defense budget by 20% over the next five years in response to more Russian activity in eastern and northern Europe.
Its shopping list includes more combat aircraft, such as the Lockheed F-35 Joint Strike Fighter.
Raytheon also makes the Iron Dome Weapon System, which is exclusively operated by Israel. Since 2011, the country has used this system to intercept more than 1,500 different targets with a better-than-90% success rate.
Northrop Grumman (NG) subsidiary Scaled Composites has a new experimental aircraft, the Model 401. Little information is available, although experts say that it looks designed to avoid detection.
The company says it has built two prototypes for an undisclosed customer "to demonstrate advanced, low-cost manufacturing techniques and to provide aircraft for research flight services to industry partners and the United States government."
And it's not only the billions that are initially spent to procure new military hardware.
The companies that sell all that weaponry also get paid to keep it operating.
For instance, The State Department recently gave Boeing (BA) approval to provide the Government of Kuwait follow-up support on two of its C-17 Globemaster transport aircraft.
The $343-million contract includes personnel training, spare parts, and software support.
Looking into the future, there's a whole new wave of developments taking place and smaller companies in the mix …
Drones, or unmanned aerial vehicles (UAVs), provide 24/7 eye-in-the-sky views for just about anyone located anywhere.
For example, the U.S. Border Patrol uses drones to conduct missions in areas that are too remote or dangerous for officers on the ground.
In addition to shopping around for a lightweight drone with infrared cameras and facial-recognition capabilities, it's also considering a surveillance balloon that can be quickly moved to spot illegal activity.
The camera-toting, helium-filled balloon is made by a small startup, Drone Aviation Holding Corp (DRNE). Called The Winch Aerostat Small Platform (WASP), it costs $800,000 plus about $350,000 a year to operate.
By contrast, operating the department's current fleet of six large balloons costs $33 million a year, according to Rep. Henry Cuellar, D-Texas.
There's also AeroVironment, Inc. (AVAV), which provides a variety of tactical UAVs for the military. Its Snipe Nano gives troops more than fifteen minutes of immediate visibility – even over a wall, down an alley, or around a hill. Each Snipe weighs less than five ounces, requires no assembly, and can be in the air in less than sixty seconds.
Clearly the big, dividend-paying guns in the defense sector are the names I mentioned earlier — Raytheon (RTN), Lockheed Martin (LMT), Boeing (BA), and Northrop Grumman (NOC) – along with United Technologies (UTX).
Or, for instant diversification, consider an exchange-traded fund (ETF) that focuses on the defense sector.
For instance, the iShares U.S. Aerospace & Defense ETF (ITA) seeks to track the investment results of the Dow Jones U.S. Select Aerospace & Defense Index. It holds hundreds of stocks, with BA, UTX, LMT, and RTN comprising some of its biggest positions.
To a richer life,
Nilus Mattive
Editor, The Rich Life Roadmap