3 Letters _ _ _, Nearly 10x the Yield of a Savings Account
Did you know there's a special type of company that essentially let you collect "tolls" from various energy and natural resource companies?
And give you nearly 10x the yield you'd get from America's best savings accounts.
It's true…
They're called Master Limited Partnerships or MLPs.
MLPs are traded on public exchanges, just like stocks.
However, when you buy them you're technically purchasing "units" rather than shares.
And instead of becoming a shareholder, you're actually becoming a partner in the MLP.
This means you don't have quite the same rights or protections as regular shareholders.
For example, creditors can come after limited partners' distributed capital in certain instances. Similarly, partners could also be liable for back taxes.
However, your liabilities ARE limited and there's no real reason to worry too much about this kind of stuff. Instead, you should focus on two things:
#1 MLPs also get favorable tax treatment.nd…
#2 The benefits of a partnership arrangement.
Since MLPs make up a large part of our nation's energy infrastructure, which is vital to the economy, the tax code lets them avoid state and federal income tax.
To receive the special tax treatment, MLPs must receive at least 90% of their income from qualified sources, such as natural resources.
Plus, they have to pay out most of their earnings as quarterly distributions.
That makes them pass-through entities … allowing more of the income to flow straight through to unitholders.
The end result is usually high, predictable yields for investors.
To make it even sweeter, MLPs can use write-offs and depreciation to make most of your distributions a return of capital for income tax purposes.
That means you're only taxed on the money when you sell your units. The K-1 form that the partnership sends each year provides details on all of this.
One side effect of this, however, is that MLPs are best kept OUTSIDE of tax-sheltered accounts like IRAs.
Reason: If you receive more than $1,000 in "Unrelated Business Taxable Income" (UBTI) in a given year, you could owe the IRS even if the money was earned in a tax-sheltered account.
There are MLPs operating all kinds of businesses — everything from coal mines to timberlands to macadamia nut farms — but some of my perennial favorites are energy pipeline companies.
It's easy to understand why.
These firms move crude oil, natural gas, and other critical commodities from one place to another.
They charge based on volumes moved, processed, and stored rather than the price of the commodity.
And that means they have relatively steady businesses and they are less affected by price swings than other energy companies.
With crude prices gyrating between $40 and $150 a barrel over the last decade, that's been a great thing.
Really, what matters most for pipeline MLPs is production and demand, and that picture is looking pretty good going forward.
The U.S. government predicts output will average 9.4 million barrels per day (BPD) in the second half of 2017, which is an increase of 340,000 BPD from the first half of the year. Production in 2018 is expected to hit 9.9 million, beating the previous high of 9.6 million from 1970.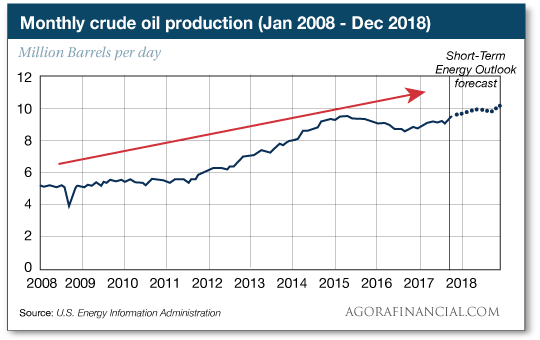 I'm working on a brand-new project right now that will give me an outlet for making specific recommendations on individual pipeline MLPs. We'll have the details for you in just a few weeks.
In the meantime, if you're interested in getting a stake in a bunch of MLPs all at one time, you can always consider an exchange-traded fund that focuses on them.
For instance, the VanEck Vectors High Income Infrastructure MLP ETF (YMLI) yields 7.5%.
It holds MLPs like Dominion Energy Midstream Partners LP (DM), Phillips 66 Partners LP (PSXP), and Valero Energy Partners LP (VLP).
Another one is the Alerian MLP ETF (AMLP), which yields 10.5%. Its top holdings include:
Enterprise Products Partners LP (EPD)
Williams Partners LP (WPZ)
And Western Gas Partners LP (WES)
The bottom line?
If you like the idea of high yields that can continue increasing over time … tax benefits … plus exposure to energy without all the volatility … "resource toll road" companies are definitely worth a closer look.
To a richer life,
Nilus Mattive
for The Rich Life Roadmap