Financial Insurance You Can Wear on Your Wrist
As a kid, my parents would occasionally drag me to Bartikowsky's, the fancy jewelry store downtown.
While they were picking up a repair or buying some small gold necklace, I would spend most of my time staring into one particular case that contained various Rolex watches.
Blue dials. Gold bracelets. Pictures of scuba divers and racecar drivers. I didn't really know much but I could tell the watches were a big deal. Maybe it was because the security guard was watching me from the front door.
Today, I wear a Rolex of my own and the company's watches are hotter than they've ever been …
Just last week, the Phillips auction house sold off Paul Newman's personal 6239-caliber, exotic-dial Rolex Daytona watch for a record-smashing $17.8 million.
Newman's wife originally bought the watch for him at Tiffany's back in 1968 … right when he was getting into driving race cars.This is why the caseback bears the inscription, "Drive Carefully Me."
At that time, the relatively unpopular Rolex model — a chronograph with bold numbering designed for timing motorsports events — retailed for less than $400.
In today's dollars, that would be a bit more than $2,000.
There's the first lesson anyone can learn from a Rolex: Inflation happens.
Of course, in the world of Rolex, inflation REALLY happens.
When Paul Newman stopped wearing his Daytona in 1984, the equivalent model already sported a suggested list price of $1,125.
And right now, the current stainless steel Daytona model has a suggested retail price of more than $12,000.
There's a second lesson: Certain assets steadily appreciate far faster than inflation.
This might seem incredible at first.
As a category, stainless steel Rolex sport watch prices have risen more than six times faster than inflation over the past 50 years.
Again, I'm not even talking about ones that contain precious metals like gold or platinum!
You can chalk most of that pricing power up to a very well-managed, universally-recognized brand name.
It certainly isn't about rarity. While Rolex is privately held and carefully guards its numbers, most estimates peg annual production at roughly one million watches a year.
The reality is that there is just always enough demand for Rolex watches to keep prices rising far ahead of broad inflation measures.
I've seen it since I got my own back in 1999 — a stainless steel GMT Master model with the famous red and blue "Pepsi" bezel.
The watch was about $2,500 new.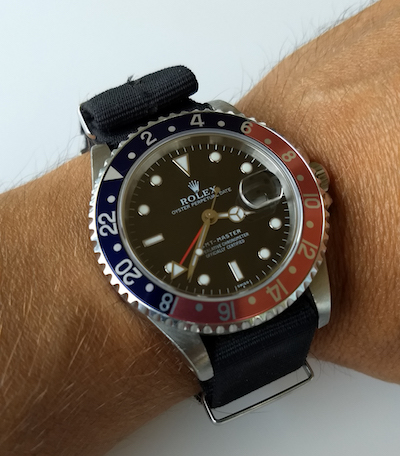 Today, my same actual timepiece — with almost 20 years of wear and tear — would easily sell for $7,000 to a collector.
So I could net a very handsome profit after two decades of nearly constant use.
Indeed, vintage watch aficionados actually assign higher values to watches that show scratches, faded bezels, and other marks of authentic wear than they do to cases that have been repolished!
It's also worth noting that my profit would be far higher than if I'd invested the same amount in the S&P 500 back when I got my Rolex. The broad stock market is only up about 87% since the day I bought my watch!
Of course, I'm not planning on selling my watch.
Nor am I keeping it just for vanity's sake.
Beyond the sentimental value, and chance for further price appreciation, I consider my Rolex to be an insurance policy.
After all, there are very few items that pack as much value into such a small footprint.
Ounce for ounce, my Rolex is worth way more than gold.
It's almost always with me.
It is desirable in just about any major city in the world.
It can be easily authenticated and sold to any number of jewelers, pawnbrokers, or private parties.
And quite frankly, unless you were very observant, you probably wouldn't even notice it was a Rolex … especially since I wear it on a $20 nylon military band.
So the way I see it, my Rolex is a store of value that I can always use in case of an emergency … and it can pretty much go wherever I do without drawing too much attention or unwanted scrutiny.
The same would probably be true of the $17.8-million Paul Newman watch, too!
Other than certain rare coins or stamps, I can't think of any other items that offer so much value and transportability.
Arguably, Paul Newman's association with the Daytona is what sparked — or at least greatly accelerated — the entire vintage Rolex collector market that has developed over the last several decades.
This is why good examples of "his" particular model were already commanding a couple hundred thousand dollars even before Newman's own actual watch went on the auction block.
For even more context, consider the collector car market for a moment.
Everyone knows that vintage Ferraris fetch big prices.
Well, a a Ferrari 365 GTB/4 Daytona car from the same time period as Newman's watch might get $500,000 or $600,000 these days.
So two or three watches gets you the car … despite the fact that the Ferrari originally retailed for roughly $20,000 … or 50 times as much!
Just to be clear — I'm not saying you should just run out and buy a fancy watch right now. There is a lot to know, and even most high-end brands and models have NOT appreciated over time the way Rolex sport models have. In fact, Patek Philippe might be the only other maker I would label a proven blue chip.
At the same time, I want you to realize that there are plenty of ways to build and protect wealth — even some that allow you to live more luxuriously along the way.
To a richer life,
Nilus Mattive
for The Rich Life Roadmap